It stimulates the natural growth of eyelashes and eyebrows. Strengthens and helps to reduce the fall, achieving lashes and eyebrows longer and busier. Combats free radicals thanks to its antioxidant action. It has moisturizing and lubricating action of the eyelids and the area around the eyes. Refreshes and helps prevent dryness and the appearance of fine wrinkles.
How to use: Hold the container approximately 15 to 20 cm away from the eyes and with the eyelids tightly closed spray the spray directly on its surface. Keep the eyelids closed for about 5 seconds and open them. It is recommended to use it 2 to 3 times per day.
Spray, easy and quick application anytime and anywhere
Does not remove or run makeup
Multibenefit action
Dermatologically tested
Longer lashes, strong and defined.
Brow denser, dense and expressive.
Antioxidant Action
EXEL PROMOTER Presentation bottle for 0.50 fl. Oz. / 15 ml, 300 shots/ two months duration approximately!!
¿What benefits does it offer?
✔️ Contains LIP-62: HUMECT-NUTRITIONAL LIPOSOMES with Vitamins A, E, C, B3 (niacinamide), Panthenol and Biotin. Unique development in the World !! Advanced cosmetic therapy with liposomes, microscopic particles that encapsulate and transport vital nutrients and antioxidants.
✔️️ Unique nutrition treatment for the growth, strengthening and thickening of the eyelash and eyebrow. Its unique formula with nanotechnology, allows Liposomes to directly carry nutrients to the hair germ cells, guaranteeing their results.
✔️️ It can be used by anyone, whether or not they have undergone a semi-permanent beauty procedure such as eyelash extensions, microblading, microshading, chemical dye or henna. ️
✔️ The Product Efficacy Study in 2016 showed an increase in hydration of up to 19% in the area around the eyes and expression wrinkles.
✔️ It can be recommended as home support in people who have lost hair in the eyelash and eyebrow area, after having undergone chemotherapy treatments, attached success case in Europe.
✔️️ 100% safe product, since in addition to being hypoallergenic it has the seals of the FDA, GMP, two ISOS and is cruelty free. An Efficacy test which guarantees its results.
✔️ Promoter is ideal and your best option if you use eyelash extensions, since it does not affect retention. "It is petrolatum free."
✔️ Its consistency is liquid and does not leave any type of residue. Its application is in Spray, and it can be used from 1 to 3 times per day. Its duration varies from 1 to 2 months depending on the application times per day.
Active ingredients: contains Liposomes of Vitamin A, Niacinamide (Vitamin B3), Panthenol (Provitamin B5), Biotin (Vitamin B7), Vitamin C and Vitamin E.
EXEL PROMOTER Ingredients: Water, Alcohol, Phenoxyethanol, Phospholipids from soybean lecithin, Calcium Disodium EDTA, Disodium Phosphate, Sodium Phosphate, Magnesium Ascorbyl Phosphate (Vitmain C), Panthenol (Vitmain B5), Niacinamide (Vitamin B3), Retinyl Palmitate (Vitmain A), Biotin (Vitamin B7), Tocopheryl Acetate (Vitamin E).
Specification:
PROMOTER Spray Liposomes
| | |
| --- | --- |
| Weight | 25 g |
| Dimensions | 5 × 5 × 10 cm |
You may also like…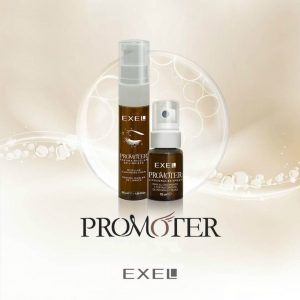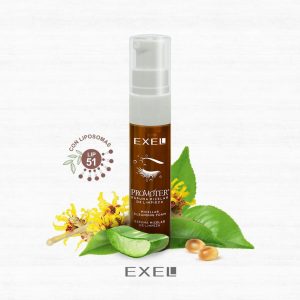 3 reviews for
PROMOTER Spray Liposomes