Day Cream with Factor Sun Protection 15 " – Silk Line
5 in stock (can be backordered)
A premium day cream with anti-aging properties. It protects facial skin against premature age signs caused by sun radiation. Helps minimize the appearance of spots and fine wrinkles. Reinforces skin barrier function and reduces TEWL (Trans Epidermal Water Loss) with a strong moisturizing action. Helps improve elasticity and tone leaving skin supple and bright.
Mode of use: Recommended for skins exposed to solar radiation, monitors or artificial light. Apply to clean skin massaging gently with delicate circular rubbing until completely absorbed.
Ideal for daytime skin care.
Multibenefit: Revitalizes, softens and gives turgor.
Lifting effect
Solar filter
Mineral Oil Free
Presentation: 1.7 fl Oz / 50ml
¿What benefits does it offer?
Silk Cocoon is a fantastic natural skin care ingredient, recognized for its many properties. It is, at the same time, a nutrient, a wrinkle filler and a rejuvenating agent. This cream will not only protect your skin from UV radiation. It will also act as a shield against other types of radiation, like the one from your PC monitor and some kinds of artificial light. Exel Silk Day Cream contains a rich blend of revitalizing, anti-aging and nourishing ingredients, among which there are Silkworm Cocoon Hydrolyzed Protein, Vegetable DNA, Shea Butter, Yeast Extract, Vitamin E, Hyaluronic Acid, Tryglycerides and Betacarotene. In balanced interaction, all these components help repair micro-damages on the epidermis surface, while they diminish fine lines and wrinkles and moisturize. Used daily, this fantastic cream will change the appearance of your facial skin for the better, giving it fullness, radiance and a sophisticated silky touch.
Active ingredients: Amino acids of the silk cocoon (Sericin and Fibroin), Aloe vera, plant DNA, Shea butter, Yeast cell extract, Panthenol, Bisabolol, Vitamin E, Hyaluronic acid, Beta-carotene. Solar filters: Octinoxate, Octocrylene, Octisalate.
Specification:
Day Cream with Factor Sun Protection 15 " – Silk Line
| | |
| --- | --- |
| Weight | 180 g |
| Dimensions | 7.5 × 7.5 × 7 cm |
You may also like…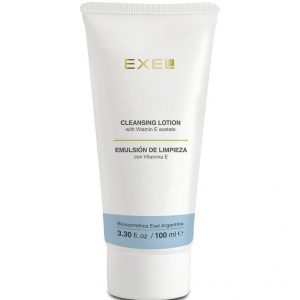 Day Cream with Factor Sun Protection 15 " – Silk Line
5 in stock (can be backordered)